Barber-Nichols (BN) has been designing and producing specialty turbomachinery since 1966 and in that time we have developed many strong enduring relationships with our customers and our suppliers. These relationships are based on mutual respect and a commitment to shared success.  The following documents are provided for your use.
AS9100:2016/JISQ 9100:2016/EN 9100:2018 and ISO 9001:2015 – ASQ/ANSI/ISO 9001:2015 CERTIFIED
OSHA Safety and Health Achievement Recognition Program (SHARP) Certificate (2021-2024)
Customers:
The following terms and conditions of sale apply to all BN's quotations unless otherwise negotiated.
Suppliers:
At Barber-Nichols we understand that strong relationships with our suppliers are critical to our shared success.  As an ISO9001/AS9100 supplier, we strive to be clear in our requirements and track supplier performance for future use decisions.  We support our suppliers with periodic visits and offer the following documents which will be selectively referenced in purchase orders.
Purchase Order Provisions
*NEW* Barber-Nichols Purchase Order Provisions, Rev K, dated 01 Feb 2022
Barber-Nichols Purchase Order Provisions, RevJ, dated 18 Nov 2018
Packaging Instructions for Suppliers
Packaging Instructions for Suppliers – DOC NO. BNFQ-2051, dated 04 Jan 2022
General Design Considerations, Machining Practices and Inspection Requirements for Parts and Assemblies
Work Instructions: General Print Amendment – DOC NO. DS-703, Rev. M, dated 13 Sep 2018
Supplier Representations and Certifications
To be considered for possible work with Barber Nichols under federal prime contracts, all businesses are required to be registered in the System for Award Management (SAM) database.  This is the primary vendor database for the Federal Government and it is free to register at www.sam.gov.
Hotel Recommendations:
Barber-Nichols is located in Arvada, Colorado, a Denver suburb located between the city and the beautiful Rocky Mountain foothills. There are many hotels in the area and the most convenient hotels are listed below for your convenience. Additionally, the maps listed below provide directions and estimated travel times; remember to allow extra time if you will be driving during high-traffic hours.
Origin Hotel Westminster website
Click here for BN discounted rate at Origin Hotel Westminster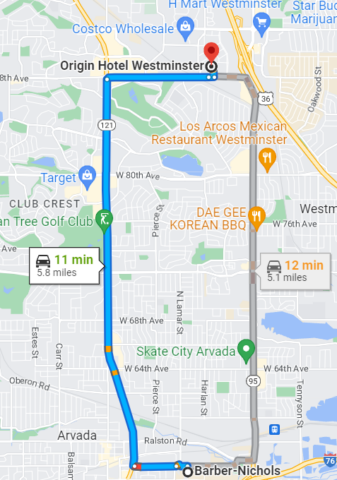 or
Book Your Hotel Room at the Hilton Garden Inn Arvada by Clicking Here (10 Minute Walk from Barber-Nichols)
5455 Olde Wadsworth Boulevard
Arvada, CO 80002
Phone: (303) 420-9799
Map: Denver International Airport (DIA) to the Arvada Hilton Garden Inn (25 Miles / 30 Minutes)
Map: Arvada Hilton Garden Inn to Barber-Nichols Walking Directions (0.8 Miles / 10 Minutes)
Map: Arvada Hilton Garden Inn to Barber-Nichols Driving Directions (1.3 Miles / 5 Minutes)
Driving Directions (Denver Int'l Airport To Barber-Nichols)
Map: Denver International Airport (DIA) to Barber-Nichols
Shuttle Service (Call for Rates)
Denver Super Shuttle: (303) 370-1300
Golden West Commuter: (303) 342-9300